About Persistent Objects Ltd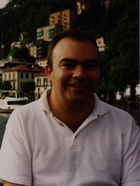 Delivering independent IT and Marketing expertise to local businesses for over 25 years.
Hi I'm Alan Hicks, I've been working with blue chip and SMEs delivering high impact, easy to use, secure and scalable web apps built on a solid architectural foundation for many decades. With a strong background in IT and strategic marketing from Deloitte, and behavioural science from Havas, I delivered mission critical projects for demanding clients with professional ethics, business acumen, and a good ROI.
Making opportunities, promoting good practice and delivering value with apps that scale
As your independent IT & Marketing consultancy in South West London Persistent Objects raise your business profile by designing, delivering and supporting your physical as well as internet presence both large and small, local and global. From sole traders to small/medium enterprises we help you get the the most from your budget by delivering high impact web applications, related materials and services that make a real difference improving both how individuals/organisations work and how they help manage their relationships with colleagues, clients and prospects.
Combined, your physical presence and your online one is greater than the sum of the parts. Almost everyone has a smartphone, you should be there too
The only constant is change so we're constantly researching & developing our business plus monitoring market trends to ensure we're always delivering value and growing your business.
We can help you research then deliver your message to new and existing customers using our experience in marketing to complement our core IT skills ensuring you make the most out of your opportunities, plus our accounting skills and business acumen ensure you get a good return on your investment. Our mission is to offer an independent, personal service by blending our soft skills with our technical competence and a touch of flair to help you achieve your goals and help you grow your business by increasing engagement with your customers.
Why Persistent Objects? Objects comes from the Object Oriented way of looking at opportunities as we saw them back in the '90's to give a more subject based and modular focus, we found it an easier way to work, better understanding of the matter in hand from the view of all interested parties and a more flexible and easier way to manage complexity in an increasingly changing world. Good application design skills, implemented well and delivered with sufficient usability and take-up meant that projects lasted long after their intended lifespan, hence Persistent. As the tools and technologies have evolved, so we have incorporated them where appropriate to make our offerings better and more cost effective helping you deliver your objectives in an ever changing landscape.
Registered Office
128 Lilleshall Road
Morden
London SM4 6DR
Registered in England and Wales 03538717
Directors
Alan Hicks