Paul Ayres catalogue and performance listing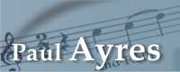 Paul Ayres is a highly respected multi talented freelance musician and his catalogue reflects the diversity, depth, and delight of his compositions and arrangements. Browsing and searching a complete catalogue of Paul's music, keeping up-to-date with a performance diary of future concerts, buy CDs and scores, and discover other information about Paul and his work.
Dr Marian Dolan, writing in the International Federation for Choral Music's 'International Choral Bulletin' says: "one of the best composer's sites I've found on the internet. It is extremely clear and well-organized, easy to use, filled with information, and could be a great model for other composers' sites".
Catalogue
The catalogue is the main aspect of the site where all of Paul's work is promoted by making it available for browsing or searching according to how conductors research new pieces. Each entry has information about the piece including audience, duration, words, and the text. Bringing a piece to life with an mp3 or you-tube link and a sample score can help visualise a performance. Where available a score can be ordered for a choir.
Performances
Paul's arrangements are played around the world and the performances page shows in a friendly calendar format each piece, where and when it is being performed.
Technical
A strong architecture and elegant design means the site is easily managed and a pleasure to use.
Optimised for many types of visitors including real people and search engines; real people can find what they are looking for using their preferred search engine, and on arrival find they get what they came for and explore more. All achieved with ease.
Update June 2014
Refreshing a good design offers many useful benefits, extending it to include mobiles and tablets is essential. The original Catalyst under Perl architecture was a bit tired and had long since moved away from the elegant simplicity of its early years. It needed the same high performance and intuitive interface, only more cloud and device friendly.
Responsive design with Bootstrap was a simple choice for the frontend user experience. The transition from custom css to bootstrap was straightforward, made easier by following Doug Bowman's structural guidance all those years ago.
Python's Django - the web framework for perfectionists with deadlines - offered elegance with considerable power made easier by using Mezzanine CMS. Although the most complex part of the transition, perl to python was straightforward as was FormFu to Django's template language, there were surprisingly few database schema updates, perhaps a sign of good database design as much as the flexibility of Django.
Marketing is as important now as it was at the start, so things such as promoting all aspects with ease and consistency was as important as keeping the same urls where feasible ensures search indexing is maintained and so visitors searching for Paul's work can still easily find what they are looking for, often on the first page.
Visit Paul's site now and discover more about why his work is so well respected and why Bootstrap and Python's Django is such a good fit.