Profitable Marketing is Knowledgeable Marketing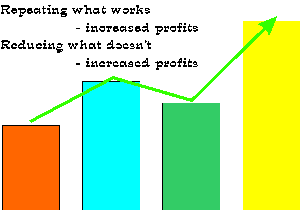 Measure and maximize - profit from what works
How to make digital marketing and traditional marketing more effective and accountable using measurement and analysis.
So can internet marketing work for small businesses?
Whether it's seeing what works well enabling you to focus on those profitable areas or seeing what doesn't and quickly moving on, digital marketing tools such as Google Analytics helps gain an insight into your site's usage and your traditional and digital marketing effectiveness by tracking visitors, measuring their interactions, analysing then presenting that data in accessible and relevant ways. The tools are available to all, large and small.
An old adage (the Micawber Principle) goes something like:
A man earns £100 and spends £97.50 - Happiness
A man earns £100 and spends £102.50 - Misery
If only it were so simple to assess the profitability of a marketing campaign! Although it's important to remember that visitors (or revenue/footfall/interest) is not the same as profit, visitors etc are an enabling component and through which you can get the essential return on investment.
At Persistent Objects we recognise that each organisation is different, we use and encourage our clients to use tools including Google Analytics to measure, inform and fine tune marketing efforts leading to better engagement with clients and thus improved profitability.
More subtly, it can help focus our mindset such that most initiatives, their development and execution are better targeted, more successful and with reduced effort.