Small Business Marketing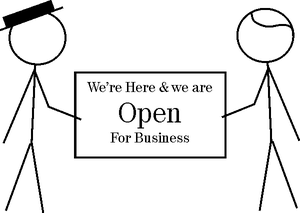 People prefer friendly local businesses and local marketing works, so could it work for your business?
Where can I advertise for free?
Leading busy stressed lives, your customers hear and find you clearly above the ever louder competition when you make things easier with good marketing. Good small business marketing also helps grow a business and adapt to ever changing opportunities.
Customers find local small businesses when you use marketing to effectively promote your products and services.
Tools such as website building and internet advertising are more affordable than ever, alas having the tools is not enough. Preferring to focus on core competences, bringing in experienced help is a great way of marketing products and services to local customers without getting too distracted.
Marketing + Behavioural science is your unfair advantage
At Persistent Objects, as your friendly local marketing company offering a personal service, we understand the many and diverse tasks required to manage and expand a small independent business and can help with the planning and implementation of an integrated marketing campaign. With our business expertise at hand and your objectives, we can help define a strategy for success, put together some ideas for a campaign and implement them to realize those objectives, keeping you in control at every stage.
Free small business resources:
Passing on our marketing knowledge helps you become more confident and self reliant, helping ensure you get a good return on your investment, offering advice only when you need it. Just some of the many ways we can help independent small businesses succeed.